February 1, 2010
Online Marketing: You're Goin' Fishin'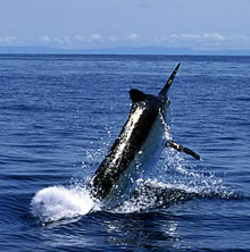 Most sites I build are the foundation of the client's online marketing strategy. Nearly all are for businesses or non-profits that are promoting a personal service rather than a tangible product. The sites are built to begin, or to further develop, personal relationships. For businesses, this is aimed at prospective, current, and past clients. For non-profits it is similarly aimed at current and prospective members, affiliates, and constituents. In either case, the marketing issues are pretty much the same.
The website as magical silver bullet is hopefully a myth I won't need to spend too much time skewering; any online strategy must be considered in conjunction with an organization's overall marketing plan and the website is only one piece. Hopefully I can also sell the idea that spending too much time and attention on SEO (search engine optimization) is a poor use of resources and frequently misses the point. We'll take a quick look at both, but mostly we're going to outline what online efforts are useful and how do they all fit together into a comprehensive strategy.
We're going to assume that one's online strategy has a focused purpose along the lines of "attract and cement relationships." Said that way I'm reminded of my time as a fund-raising consultant. Much of our business was training our clients how to raise money from their peers, essentially how to attract and cement relationships. Fishing and dating metaphors abound in fund-raising, marketing / sales, and recruitment. In the part of the development world that I worked, the dating metaphors were very effective at getting the light bulb over folks' heads to glow. However, the fishing angle is similarly effective and perhaps a bit more appropriate for the polite company here.
Note: the metaphor is not perfect. Since we're not planning to "eat the fish" we're going to think of this as a fishing trip for "catch and release" with the idea that we're doing something good for the fish we catch, we are looking to provide a product or service that they willingly consume. Think of it as though we're going to feed the fish and then tag them before we set them free. Remember also that those of us who are fishing are also fish ourselves.
Baiting the Hook
In fishing, the right bait in the right place means success. Miss either one and we get skunked.
In an online marketing strategy, this means electronically "working the room," being "out there" in as many varied, yet appropriate, contexts as possible. This means email lists, online forums, social media sites, others' weblogs, etc. Any online forum where communication can be two-way gives us the opportunity to expand our SOI's. SOI has traditionally meant Sphere of Influence, but I'm adding a few right now. For our discussion, SOI's are Spheres of:
Identification
Our Sphere of Identification is the group of people we know and the group of people that know us. Knowing a name and a few interesting facts is the very first step to relationship building, whether in person or online. We can't start until we put ourselves "out there" and we start paying attention to others that are "out there."
Information
Our Sphere of Information is the group of people that is exposed to the information we are sharing, and the group of people that are providing information we are exposed to. The online world is all about communication; information exchange is sometimes what happens after meeting, but more often it is the seed for the meeting itself. This means it is not sufficient to be part of online communities and simply "lurk," we must contribute.
Interest
Our Sphere of Interest is the intersection of our Spheres of Identification and Information, likely people that we know and whose information we've seen. This is the group of people that pays attention to what we are saying, or the group to whom we pay attention. This is the first level of "common ground" where there is some sharing of ideas, beliefs, values, or goals.
Someone online that knows who we are and has consumed information we've communicated, and who is likely to share one or more interests, is the profile of the fish we're looking to catch.

Involvement
Our Sphere of Involvement is the natural progression of our Sphere of Interest. This is the group of people with whom we not only share common ground, but with whom we interact. As soon as there is two-way communication that rises above the trivial, we have entered each others' Sphere of Involvement.
Influence
Our Sphere of Influence is another progression of our Sphere of Interest. This is the group of people whose decisions are affected by what we say, and vice-versa, those whose advice or guidance impacts our decisions. They may or may not be part of our Sphere of Involvement. However, the intersection of our Sphere of Influence and our Sphere of Involvement, is where good things happen!
Investment
Our Sphere of Investment is the final Sphere, the goal. This group comes from the intersection of our Sphere of Involvement and our Sphere of Influence. There are the people who hire us and who we hire. It is not everyone that we interact with and influence, but we're not likely to do business with someone until those two things happen. Trade relationships, of product or service, are best built upon trust. It is easiest to build trust in those with whom we share common ground, interact with, and who we influence.
Getting a Nibble
If we're "out there" baiting the hook by beginning to expand our SOI's, then we will attract attention. In fishing terms, anytime someone consumes out content, anything we've written or posted online, we're "getting a nibble" and they are in, or on their way into, our Sphere of Interest. Quality nibbles are from those with whom we stand a reasonable chance of furthering along the SOI progression.
Setting the Hook
Consumption of our content "out there" is the nibble, to set the hook we want interaction and we want them to our site. This means getting them beyond an interest in us in the other context and getting them to show an interest in us on our own turf. This is where our website needs to shine, it is our online "office" and should be a clear and honest representation of ourselves and our organization. Is it a reasonable representation of who we are? Is there a natural progression from our "out there" communication to what is on our site? Again, it's not meant to be a silver bullet, just a congruent part of the big picture of our progression through the SOI's.
So simply attracting large numbers of people to our site via keyword searches, particularly if those searches aren't relevant, should not be the end goal. Professionals at Five Channels agree that getting traffic from searches is not a bad thing, but it is at best one small piece of the process of relationship building. Search engine optimization, for most sites, typically should be a minor concern. So long as we have relevant content on our website in a "spider friendly" format, most of our SEO issues are taken care of. We'll end up with good placement simply because of that, but more importantly the quality of our traffic will improve greatly. ("Spider friendly" means there is no reason why the site could not be read and indexed by the major search engines, nor are there reasons why the content might be excluded.)
Driving traffic to our site from other efforts is where our time and energy should be focused.
Boating the Fish
When we have meaningful two-way communication with someone that includes their experience of our online "office" we have boated the fish. The quality and content of our site is obviously critical at this point. Once a qualified prospect experiences it, will they contact us? Until we have begun that interaction, or until our online interaction has progressed beyond "out there" to now include time spend at our site, the fish can still be lost easily.
Tagging the Fish
The fish is on the boat — we have meaningful two way communication that includes enough interest in our product or service that the fish is on the boat. Our work online is hardly done, but it may no longer be the primary venue or context for our interaction.
Can we get a tag on the fish?
Can we feed it?
Can we get the sale?
It may be that the sale will come later and that all we need to do now is maintain the relationship for a time. That's what "tagging" the fish is all about, building up a reserve of qualified and potential clients that we maintain ongoing relationships with, both online and otherwise.
Tracking the Fish
Once we've tagged a fish, and whether or not we got the sale, they should become a source of more fish. Maintaining the relationship leads to more business just like tagging and tracking a fish is used to find the rest of their school. Every client or close relationship should be developed as a source of referrals.
OK, I'll admit it's a bit of a goofy metaphor, but it works well enough to provide some structure for our thinking and creativity. Some fish make it through each Sphere on the first meeting; they are boated, tagged, and tracked in short order. Others take lots of time and effort every step of the way and never end up as clients. Most fall somewhere in between. We won't ever catch any though unless we get out there in the right spots with the right bait.