December 2, 2020
I'm not crying, you're crying…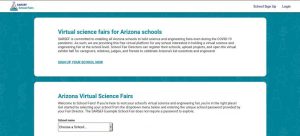 My involvement with SARSEF is constantly rewarding but their latest project / initiative is particularly heartwarming in these days of COVID. Introducing the SARSEF School Fairs site, a FREE service to all Arizona schools allowing them to host their own virtual science fairs.
Did I mention it is being offered to them for FREE?
It was a very enjoyable and challenging job to get it done and launched on a tight schedule, big props to Nick, Danniey, Julie, and Liz for throwing their shoulders into it and making it happen.
Check it out and check out SARSEF , it is truly a huge Southern Arizona gem!